Playing songs on guitar can be a daunting task for beginners. Loog solves this: our 3-string guitars reduce chords to the basic triad, allowing for an easier and faster learning process. With a Loog, kids can play songs on day one, feeling rewarded and encouraged to keep on playing and learning.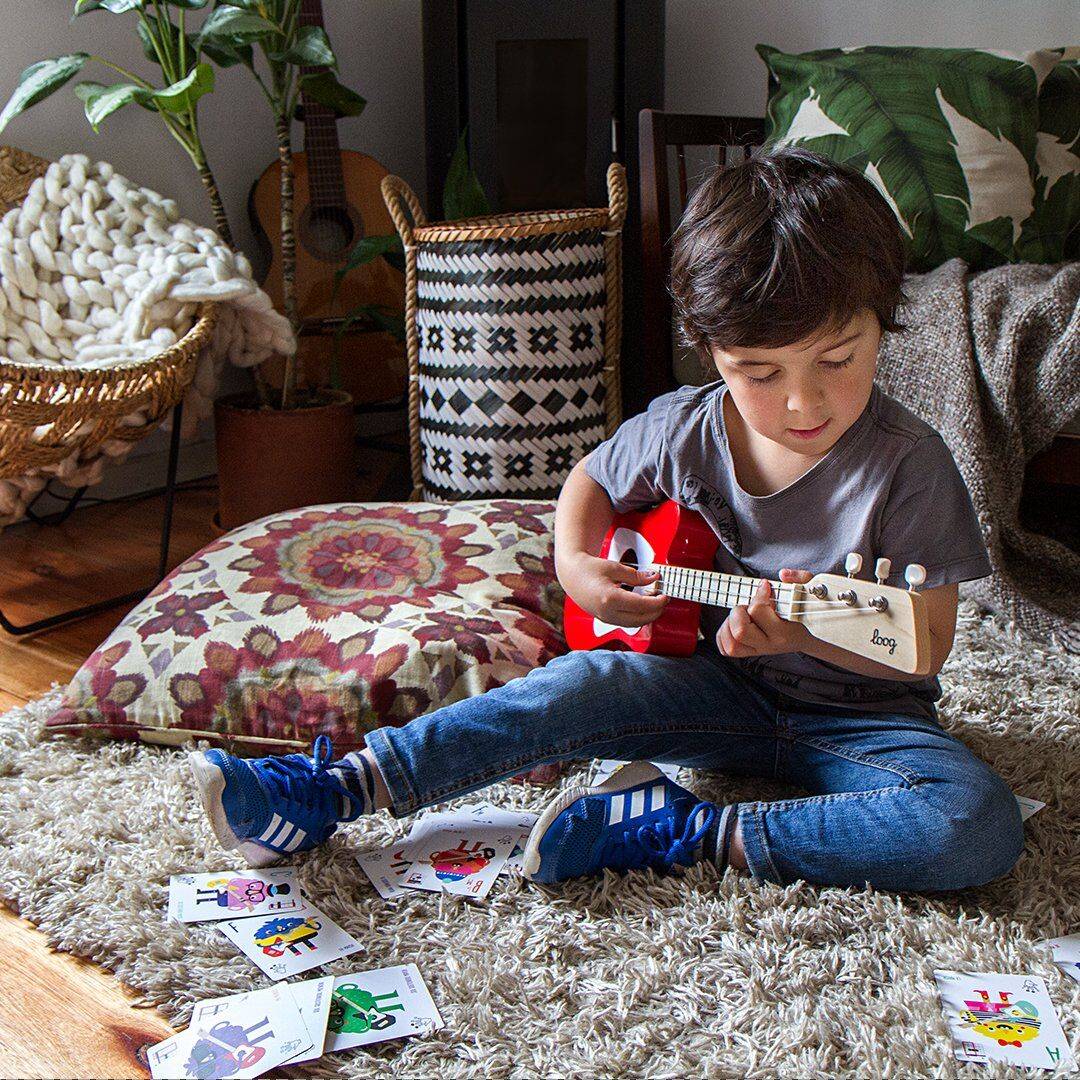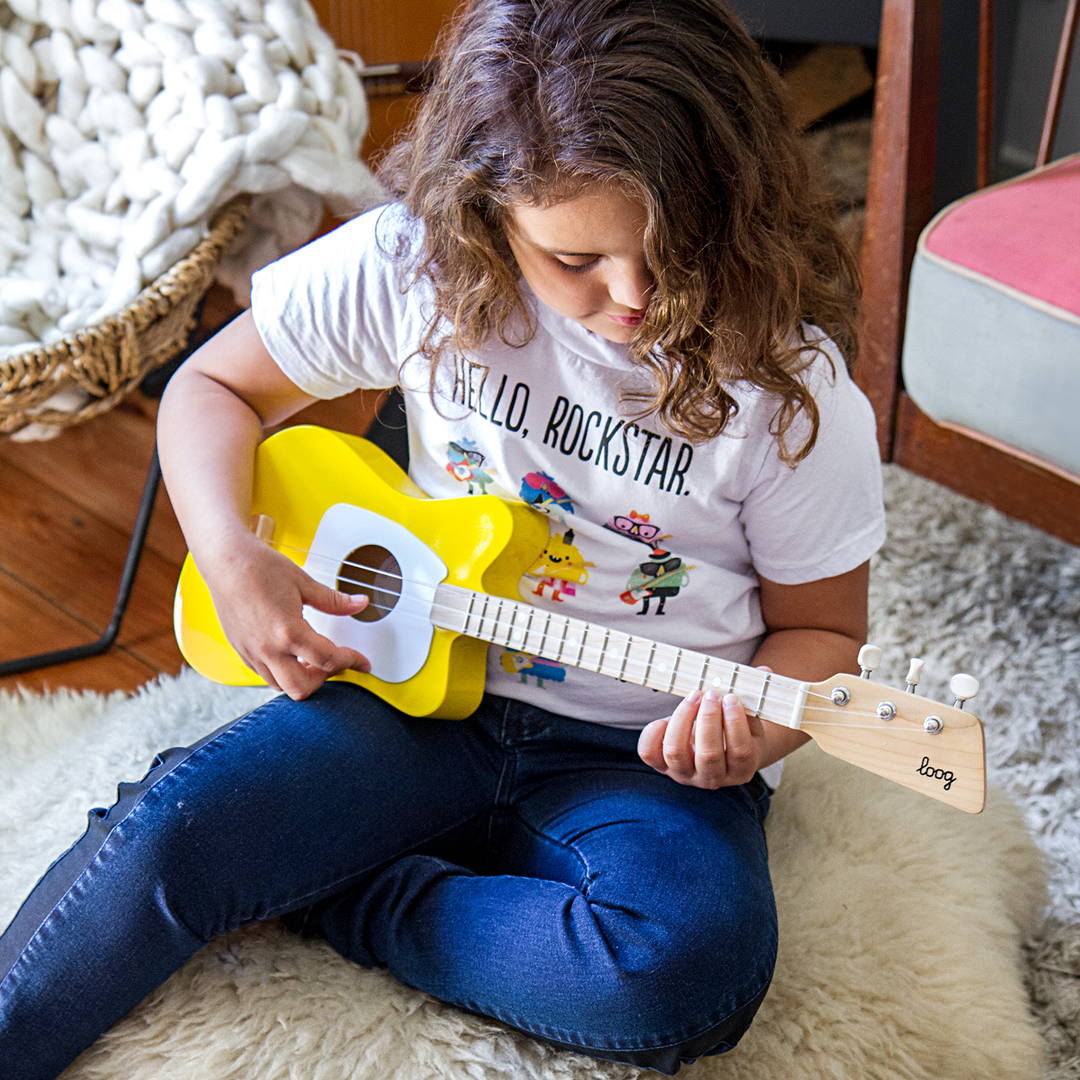 LEARN ON A LOOG, PLAY ANY GUITAR.
Loog guitars use the first three strings of a guitar: same strings, same tuning. This is why finger placement and everything you learn on a Loog can be applied on a 6-string guitar too. It's a seamless transition that allows kids to learn on a Loog and then play any guitar.
GUITAR + APP + FLASHCARDS
All Loog guitars come bundled with flashcards and an app that have everything you need to learn how to play guitar. We also host FREE live lessons via Zoom; these are thirty-minute sessions covering guitar basics, meant as a starting guide for kids who just got a Loog.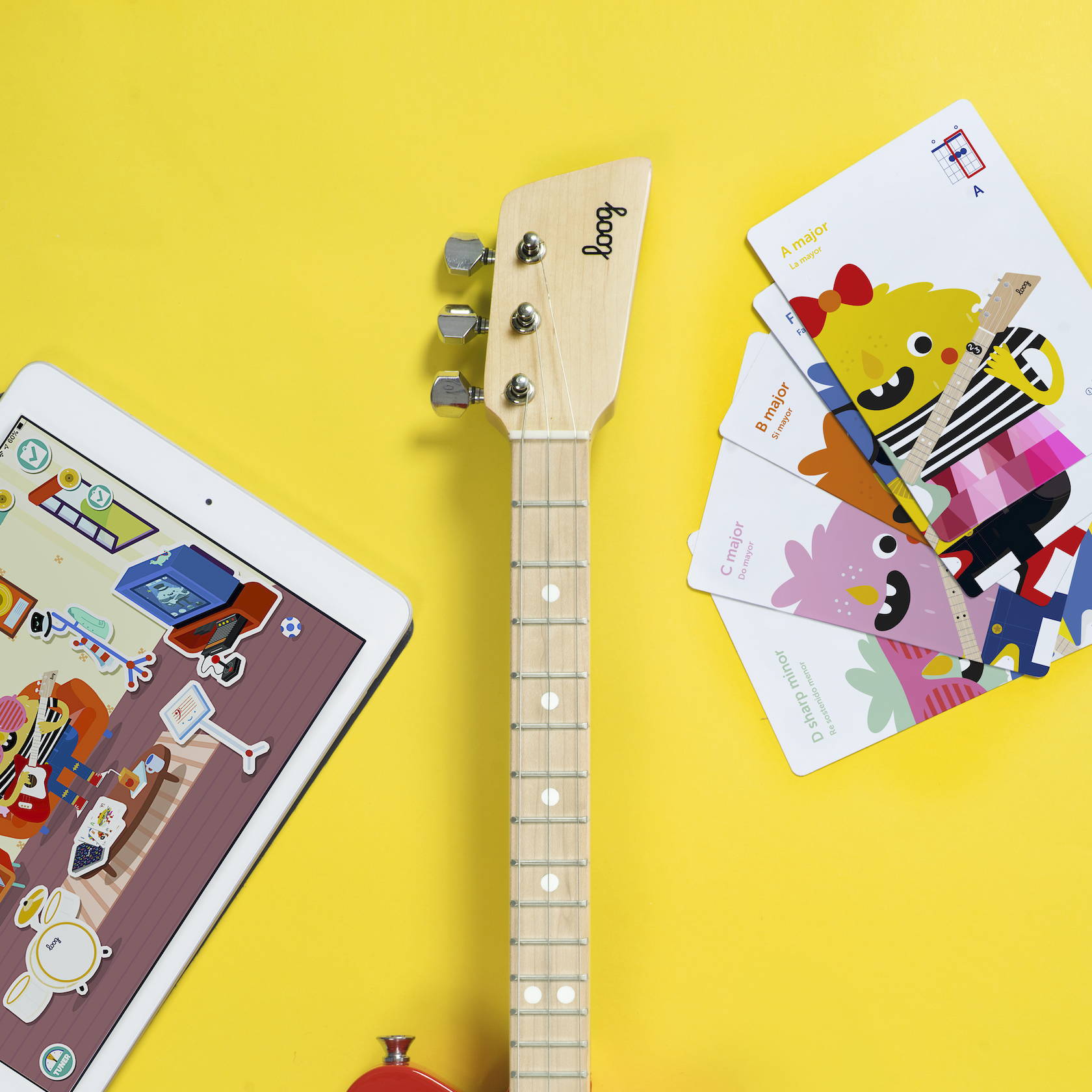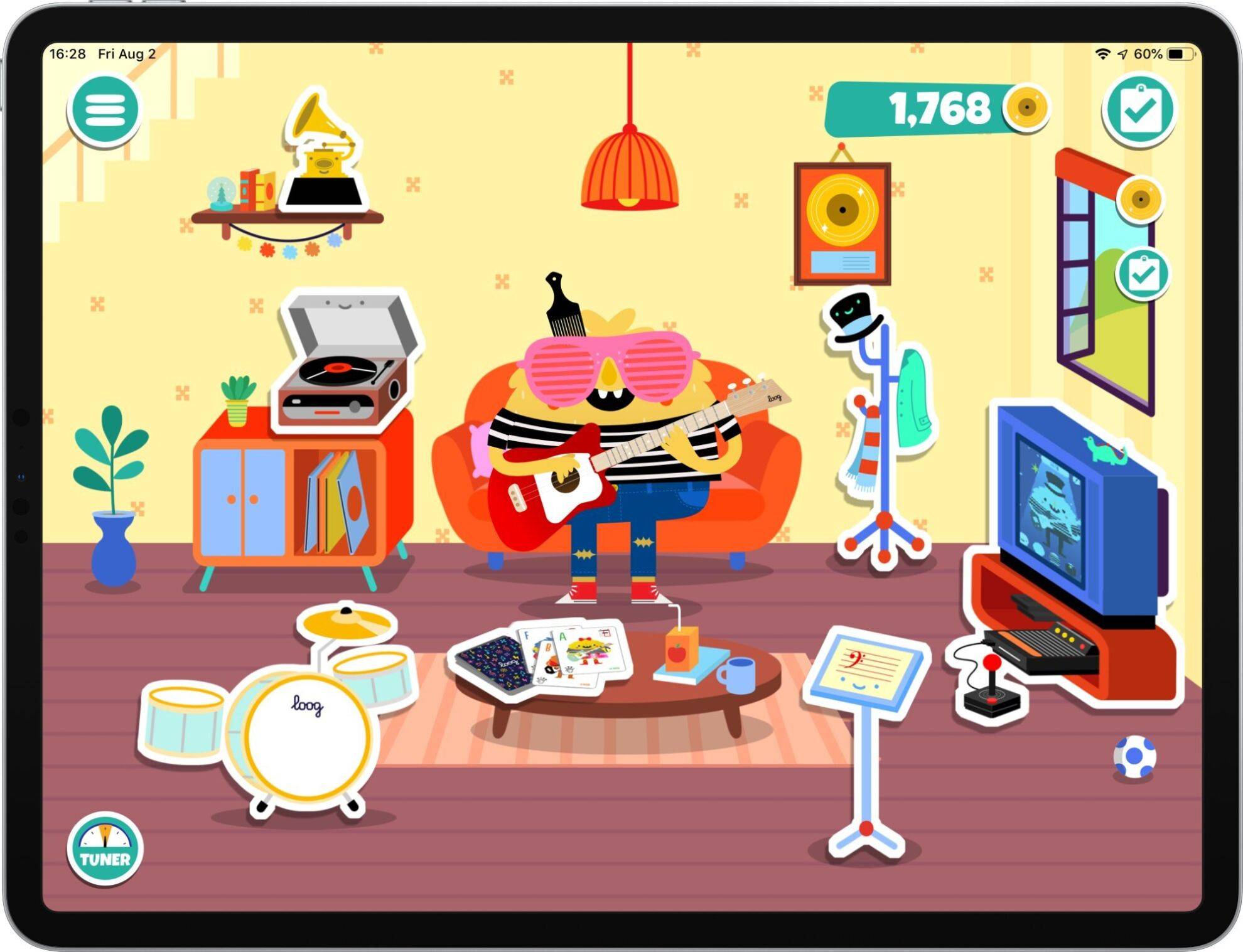 LESSONS + SONGS + AR + MONSTERS!
The free Loog Guitar app has everything you need to play songs: video lessons, a tuner, and a digital songbook so you can learn by playing real songs (Beatles, Stones, Taylor Swift and more). It even has an AUGMENTED REALITY feature that allows you to learn guitar using the selfie camera!
Loog guitars are small, fun and cute, but they are not a toy: they are real instruments, made out of real wood, that project a sweet, beautiful sound that's just unbelievable for a guitar of this size and price.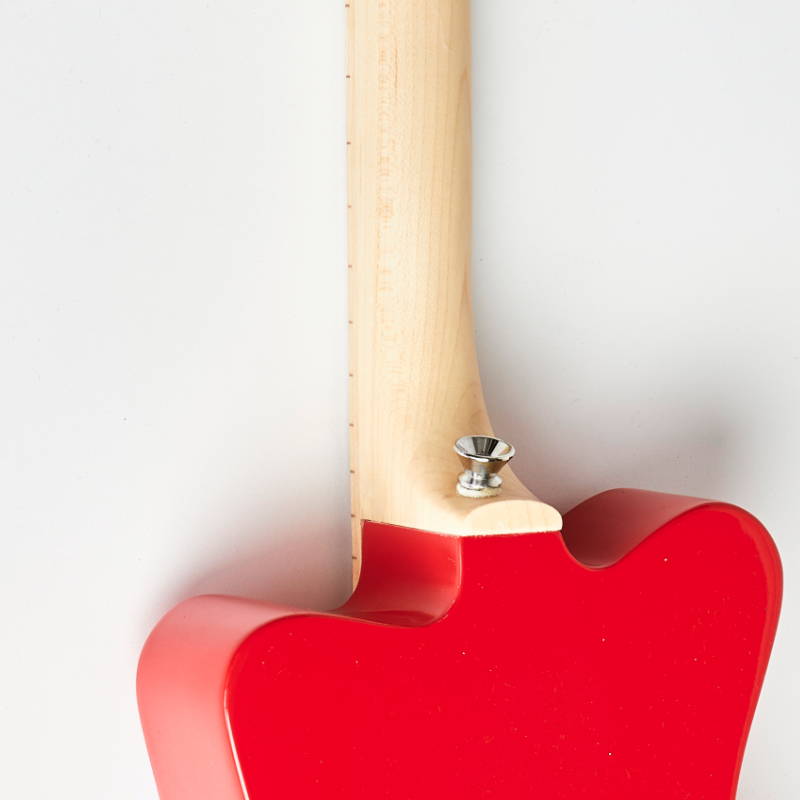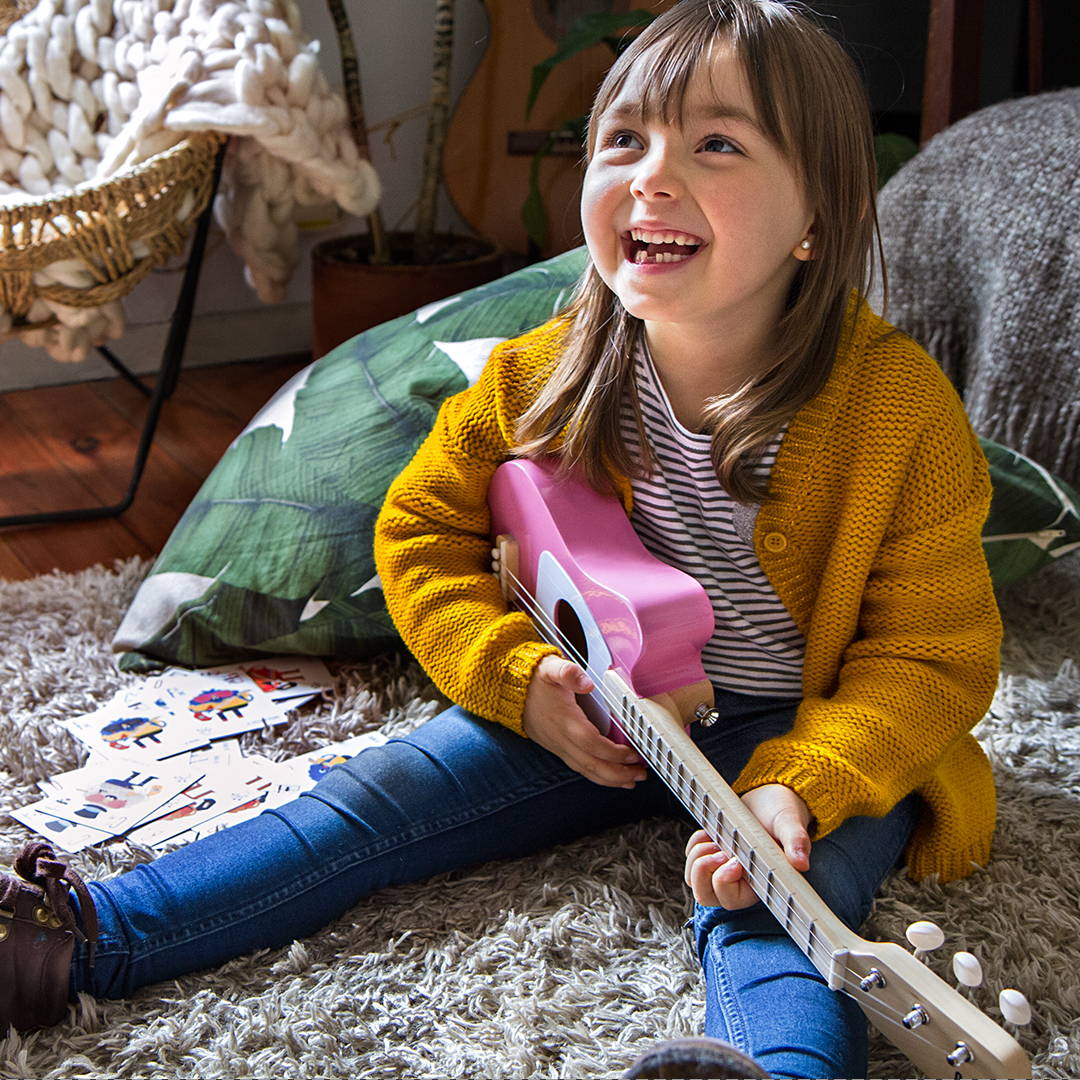 THE GIFT THAT KEEPS ON GIVING
Playing a musical instrument helps children benefit in almost every level: it enhances their cognitive skills while fostering creative thinking and their ability to focus. With Loog, kids are playing and having fun from the very beginning, acquiring skills that stay with them forever.
Body: Basswood

Neck and fingerboard: Maple

Strings: Nylon

Number of Frets: 15

Scale: 15.6" (390.0mm)

Length: 22.2" (565.0mm)

Width: 6.9" (176.5mm)

Depth: 2.3" (58.5mm)

Weight: 0.9lbs (0.4kg)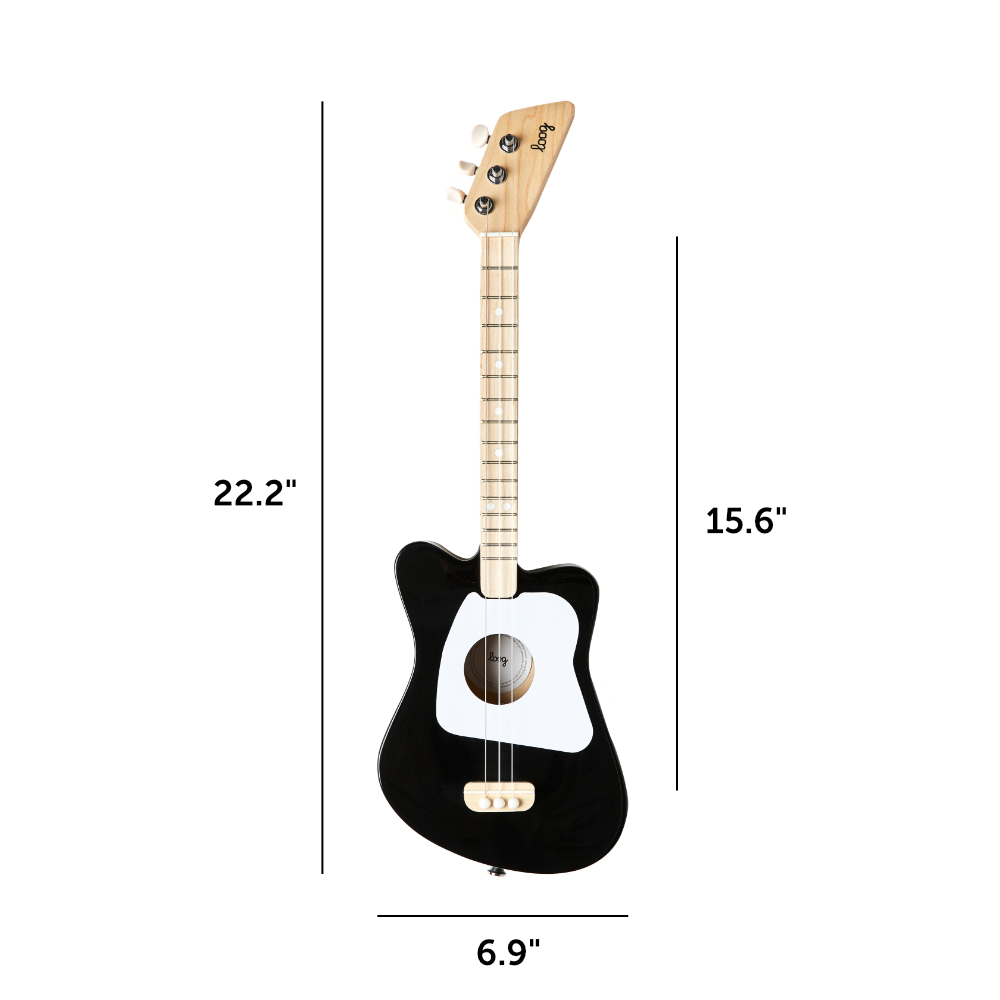 Why should I get a Loog Mini over a more traditional beginner's guitar?
Most guitars for kids are simply cheap, scaled-down replicas of a standard guitar. And because they have six strings anyway, the neck is still too wide for a child to play comfortably - let alone easily. Plus, cheap guitars tend to be cheaply made. It makes sense to avoid spending a fortune on a beginner's instrument, but by going with really bad quality build and materials, chances are your kid won't feel engaged enough to play.

Why should I get a Loog Mini over a ukulele?
Ukuleles are great - if what you want is a ukulele. The problem is that many people end up buying a ukulele because what they want is a small, portable, easy-to-play guitar. And if that's what you want, we think a Loog Mini is better suited for you. You see, a ukulele is an entirely different instrument: it has its own strings, its own tuning and its own sound. The Loog Mini has classical guitar strings and standard guitar tuning, so it plays and sounds just like a guitar. So if you want to get a ukulele, you should definitely get one (they are actually fun to play along with the Loog!). But if what you really want is a small, fun guitar, we humbly propose that you consider a Loog.
If I learn to play a Loog Guitar, can I then use those learnings to play a regular 6-string guitar?
Yes, playing a Loog is not entirely different from playing a traditional guitar, it is just simpler. Since we use the same first three strings -and tuning- of a six-string guitar, everything you learn on a Loog can later be applied on a standard guitar. The transition is natural and seamless. Likewise, you can buy books or go online to find the chords to your favorite songs, and use those same chord-tabs meant for six-string guitars to play on your Loog. You just need to pay attention to the finger-placement on the first three strings and simply ignore the other ones!
What is the minimum age recommendation for Loog Guitars?
We recommend the Loog Mini for children 3 and up.
My kid is 6-7 years old; should I get a Mini or a Pro?
We recommend the Loog Mini for kids 3 and up and the Loog Pros for kids 8 and up. With that said, if there's a tallish 6-7 year-old who you feel might be better off with a Pro, that should be fine too. Our age recommendation is based on general standards, but obviously every kid is different so feel free to follow your gut on this one :)
Is the Loog Mini only for kids?
Absolutely not. We designed it for kids, but it is certainly suitable for anybody who likes to play guitar. We count parents, grandparents and even pro guitarists as some of our most loyal customers.
How do you tune a Loog guitar?
Quick answer: GBE, from low to high.
Loog Guitars use the same first three strings -and tuning- of a six-string guitar. This is why everything you learn on a Loog can later be applied on a standard guitar.
Do you offer a left-handed Loog?
Not yet, sorry. We have a few lefties on our team and they simply flip the order of the strings, just like Hendrix did. Worked great for him and works quite well for them too :)
100% SATISFACTION GUARANTEED
If you aren't completely satisfied with your Loog Guitar, you can return it within 30 days, no questions asked. We'll give you a full refund, including the return shipping costs. (For U.S. orders only)
Customer Reviews
Write a Review
Ask a Question
12/04/2020
Emily C.
United States
Loog mini
I purchased the Loog Mini for my 4 year old grandson for Christmas this year. It was his highest requested gift ! I am looking forward to his reaction when he opens his guitar.
12/04/2020
Troy R.
United States
Loogs
We bought 3 guitars for my kids for Christmas. I'm sure they will be excited for them when they get them. The quality is really nice as well.
12/04/2020
Chip D.
United States
The Loog Mini is SO COOL!
My Loog Mini arrived very timely and is SO COOL! The quality of build appears to be excellent for the price point and i was able to tune the three nylon strings quite easily. I cannot wait see the look on my grand daughters face when she opens her Yellow (her favorite color!) Loog Mini on Christmas! ROCK ON LOOG! \m/
12/04/2020
Virginia I.
United States
4 yo Grandson has wanted a guitar for 2 years
He should be so happy on Christmas morning when he gets this. I am giving a 5 rating as the guitar arrived in perfect condition and sooner than expected. I will add more if I can after Christmas.
12/03/2020
peter d.
United States
Christmas Loog
Loog and accessories showed up packaged very well. Love the color, and materials, but it definitely had a strong odor (like spraypaint). Otherwise, it was finicky to tune, but finally found its sweet spot. It'll now stay hidden and come out to play on Christmas.