Regular price
$79.00
Sale price
$69.00
Unit price
per
Save $10
Sold out
Somewhere over the rainbow, we decided to create the perfect little ukulele for kids and beginners. It comes bundled with flashcards and the potential of a life-long love for music.

All-wood ukulele, perfect for beginners all ages!
Size: Soprano (length: 21.5" / scale: 13.6")
Includes flashcards with ukulele chord diagrams
Fits the Loog Mini Gig Bag, Stand, Strap and Wall Hanger
BUNDLE UP & SAVE
View full details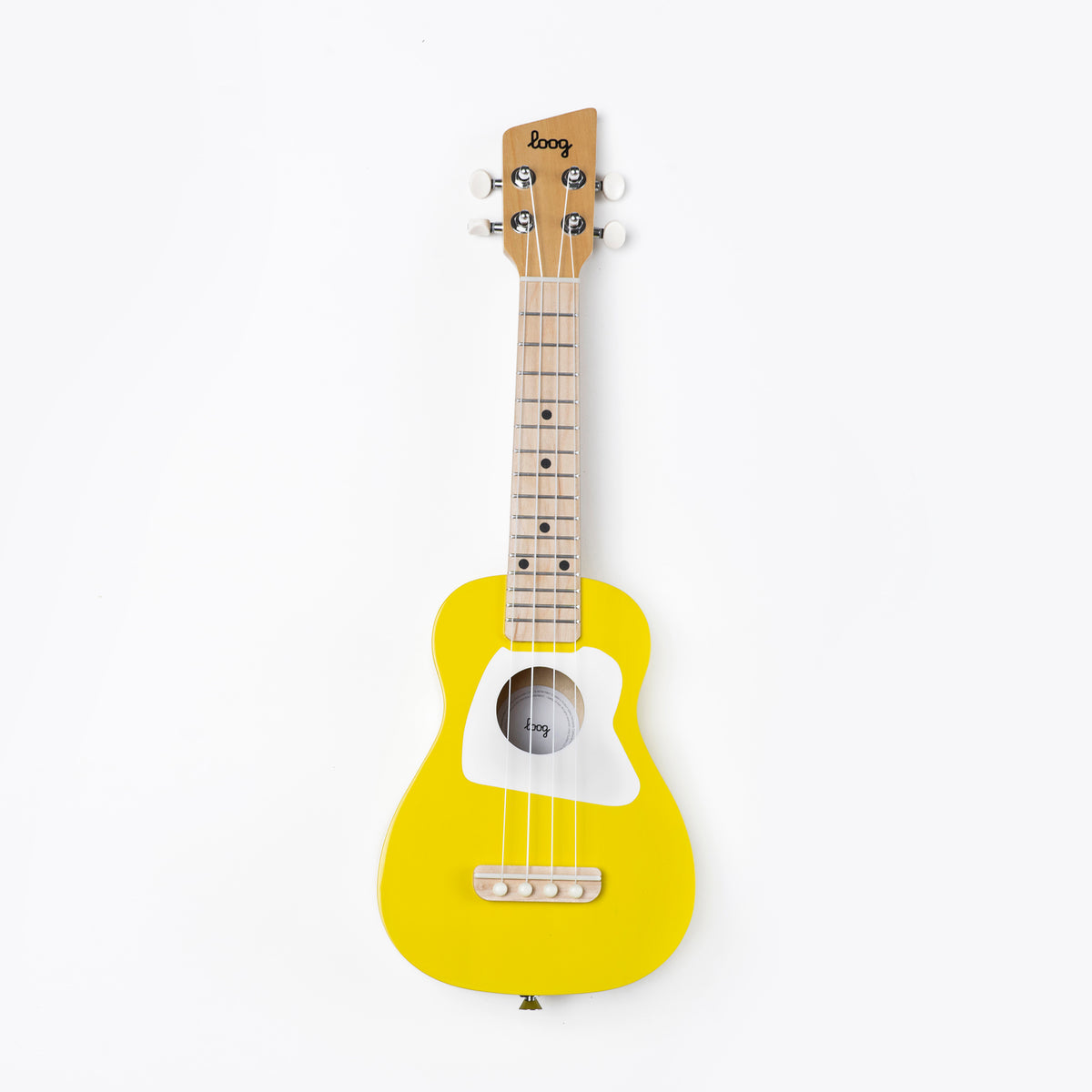 MORE THAN JUST A UKE
🎸 All-wood ukulele
📱 Learning App
🃏 Chord Flashcards
👩‍🏫 Video Lessons
🕹 Game-Like Exercises
THE GIFT THAT KEEPS ON GIVING
Playing a musical instrument helps children benefit in almost every level: it enhances their cognitive skills while fostering creative thinking and their ability to focus. With Loog, kids are playing and having fun from the very beginning, acquiring skills that last a lifetime!
REAL WOOD, REAL UKE.
The Loog Ukulele is small, fun and cute, but it's not a toy: it's a real instrument, made out of real wood, that projects a sweet, beautiful sound that will make you fall in love with music.
THE LOOG GUITAR APP
Games, video lessons, a learn-to-play songbook with 200 songs by The Beatles, Taylor Swift, Bruno Mars and more, and even an interactive TV show. The all-new Loog Guitar app is designed to get kids playing, learning and falling in love with music, all year long.
BACKSTAGE PASS
A suite of lessons, games, stories, songs and even a TV show, all designed to get kids playing, learning and falling in love with music. Includes full access to:
The Loog Guitar School
The Loog Guitar App
The Loog Guitar Show
Digital Songbook
WE ARE ON A MISSION
We started Loog not just to help kids play music, but to foster curiosity around music. From Beatles and Prince, to the history of punk rock, to the science of sound waves, to why there are so many metal bands in Finland 🤓
With Loog, kids get to play, learn and fall in love with music right from day one!
IF YOU'RE THINKING OF GETTING YOUR KIDS INTERESTED IN MUSIC, LOOG IS PERFECT.